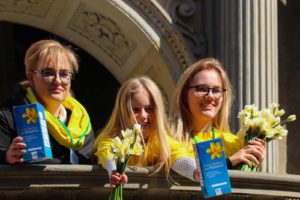 Dr Magdalena Adamowicz (born 1973) received her Bachelors and Master's degree from the University of Gdansk where she studied law between 1992-1996. In 1999 she graduated from the English and European Law School organized by the Cambridge University and German Law School organized by the Fredrich-Wilchalms-Universität in Bonn of which she is a founder. In 2003, for her doctoral thesis "The role of the mutual insurance companies in the business insurance system", supervised by prof. Janina Ciechanowicz-McLean, MEP Adamowicz received a PhD from the Law and Administration Department at the University of Gdansk. In 2004 she became an attorney-at-law. In 2011-2013 Ms Adamowicz did a postgraduate MBA Master of Business Administration course organized by the University of Northampton in WSB in Gdańsk and obtained a MBA degree. In 2018 she graduated from the Barcelona International Summer School In Maritime Law organized by the City Law School, The City University, London and The Abat Oliba CEU University law school in Barcelona.
Magdalena Adamowicz is a member of the Maritime Law Committee at the Polish Academy of Sciences. She focuses on the legal aspects of the maritime insurances. She is also an author of many academic and research papers. In 2019 she was elected as the Member of the European Parliament representing Pomeranian constituency and receiving 199 591 votes.
She works in three committees at the European Parliament
TRAN (Transport and Tourism)
JURI (Legal Affairs)
LIBE (Civil Liberties, Justice and Home Affairs)
She was also elected chairwoman of the EP delegation for relations with South Africa.